Tema Morsmål – multilingual resources on the web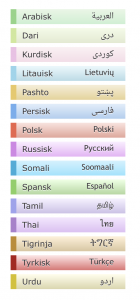 Tema Morsmål is a website containing multilingual resources for use in kindergartens and schools. The aim of the website is to gather and develop resources for mother tongue-based and multilingual activities in kindergartens, and mother tongue instruction or bilingual content instruction in schools. The site also contains resources and information material in several languages for minority language-speaking parents. Another important aspect of the site is to create networks for bilingual teachers, mother-tongue teachers and bilingual staff in kindergartens.
Background
In White Paper 23, Språk bygger broer (Language builds bridges), the Ministry of Education and Research initiated a collaboration between the Nordic countries on digital learning resources in different languages. The Swedish website Tema modersmål (Topic – Mother Tongue Instruction) had existed since 2001 and Norway wished to make a Norwegian version of the site. In 2009, the Norwegian Directorate for Education and Training were assigned the task of collaborating with Sweden to develop a similar Norwegian website. The Norwegian version was launched on 22 October 2009, and the National Centre for Multicultural Education (NAFO) took over responsibility for the site from 1 January 2011.
The work of Tema Morsmål
NAFO manages the work with Tema Morsmål, and administers and develops the content of the website in collaboration with different municipalities. Each language page on Tema Morsmål is run by a separate language editorial team that develops bilingual teaching plans and resources in collaboration with NAFO and their own network of bilingual teachers and staff in kindergartens. We also wish to share multilingual resources that are developed and produced by others, and that can inspire multicultural and multilingual work in kindergartens and schools.
Reference group
The website Tema Morsmål has a pertaining reference group. The reference group consists of representatives from the municipalities that Tema Morsmål collaborates with. As of today, the reference group consists of representatives from the municipalities Trondheim, Porsgrunn, Sandnes, Larvik, Bergen and Asker.
Competence-raising and networking
Tema Morsmål is part of the NAFO network. Yearly gatherings are organised for this target group, both locally in various counties, but also in Oslo at OsloMet – Oslo Metropolitan University, where NAFO is based. NAFO also offers competence-raising in the form of lectures, competence-raising courses, academic articles and other relevant information on their channels.